Courses and Seminars :: Students and Postgraduates :: Publications
Cheremnykh Yury Nickolayevich
Dr. of Economical Sciences, Ph.D., Professor, Academician of the International Management Academy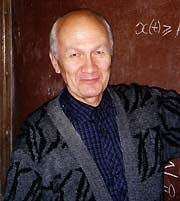 Cheremnykh Yu.N. was born on the 15th of December, 1936 in Ekaterinburg. In 1959 graduated from the Department of Mathematics and Mechanics of the Lomonosov Moscow State University. Ph.D. in physics and mathematics (1963), Dr. of Sc. In economics (1983, "The economic-mathematical analysis of dynamic economic models").
Area of scientific interests. Mathematical economics, mathematical modeling of economic dynamics . Basic results – Theorems of a highway for optimum trajectories of dynamic multigrocery models of economy with constant, and variable technological set .
Gives a course "Mathematical models in economics", special courses "Introduction in mathematical economy ", "Dinamic models in economics". Has more than a hundred of scientific publications.
Publications of Yury Nickolayevich Cheremnykh
Cheremnykh Yu.N., and others. Mathematical methods in economics.
Moscow, DIS. 1997, text-book 20
Cheremnykh Yu.N. Mathematical models of national economy development.
Moscow, Moscow State University publishment, 1986 (monograph) 20
Cheremnykh Yu.N. The analysis of trajectories of dynamics of economic models.
Moscow, Science, 1982 (monograph). 20