Courses and Seminars :: Students and Postgraduates :: Publications
Kudrin Alexander Alexandrovich
Ph.D., Junior researcher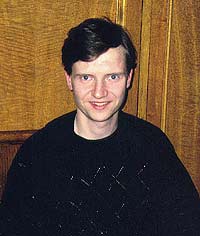 Born Oct 4, 1974 in Moscow. A. Kudrin graduated from MSU in 1996 (Chair of Mathematical Theory of Intelligent Systems, specialty mathematics). He entered post-graduate school in 1996 and graduated from it in 1999. A. Kudrin started to work at Faculty of Mechanics and Mathematics (Junior researcher in Laboratory of Problems of Theoretical Cybernetics) in 1999.
Area of scientific interests. finite automata, theory of complexity, neurocomputing A. Kudrin proved its PhD Thesis in 2000 (specialty code 01.01.09 mathematical cybernetics"), title: "Complexity of automata, which calculate formulas"
A. Kudrin published 3 articles in Russian scientific magazines, was a member of scientific group, which was two times awarded grants of Russian foundation for basic research.
Email: a dīt kudrin ąt intsys dīt msu dīt ru