Courses and Seminars :: Students and Postgraduates :: Publications
Panteleev Pavel Anatolievich
Junior researcher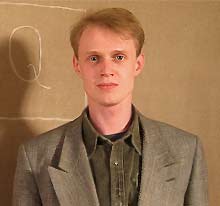 Pavel A. Panteleev was born in Moscow on November 12th 1979. In 1980 his family moved to a small town Stupino, Moscow district.
In 1996 he finished secondary school and entered mechanics and technologies department of Moscow State Aviation Technological University. From 2001 to 2004 Pavel A. Panteleev was a postgraduate student of Moscow State University. Since 2003 he works in mechanics and mathematics department of Moscow State University as a
Area of scientific interests. Testing finite state machines
Pavel A. Panteleev takes part in scientific seminars: "Computer Mathematical Problem Solver" and "Additional topics in Discrete Mathematics and Mathematical Cybernetics" (for postgraduate students of MaTIS).
Email: panteleev àt intsys dît msu dît ru